Why does postpartum depression happen?
If you're a new momma and you are experiencing telltale signs of postpartum depression, you may be asking yourself, "Why?"
But first, let's talk about 'who'…
Postpartum depression is a sneaky illness that can crop up at anytime within the first year of baby's life and can literally happen to anyone. Yep. You heard that right.
PPD does not discriminate, though there are factors that can make you more "at risk" to the illness. History of mental illness, socioeconomic status, race, age, and single marital status can all play a role.
There are also situational factors that could cause PPD such as:
However, the honest truth is that if you recently gave birth, you should be aware that PPD could occur.
And now for the 'why'…
Postpartum depression has not been narrowed down to a single cause. Factors such as hormones, lack of sleep, and new stressors can all build up to create the perfect storm. It is important to note that there is nothing a mother could or could not do to avoid postpartum depression.
One of the biggest "whys" to postpartum depression is the huge shift in hormones in a short amount of time. Your hormone levels drop drastically after delivering a baby, and they take a while to balance back out. And if you are a breastfeeding momma, it may take even longer.
When PPD occurs, the brain is chemically altered. Your neurons are not firing correctly, and your brain is not able to create enough serotonin (aka the "happy chemical"). The simple fact of the matter is that your brain is "broken", and, momma… that's okay. Getting postpartum depression is no different than getting the flu in the sense that it cannot be helped.
Just like for physical illnesses, there are medicines and treatments available for this invisible illness. "Invisible", that is, until it is lit up on a brain scan…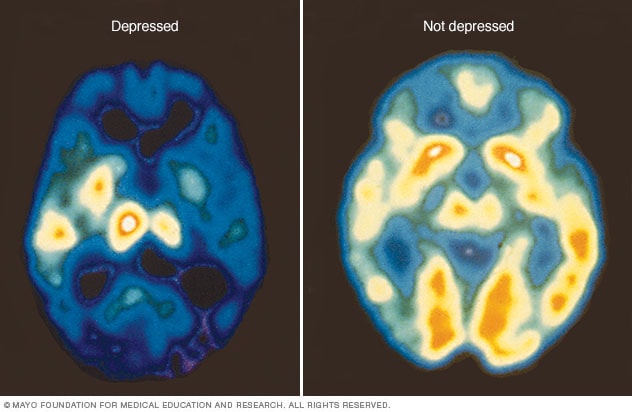 So, what can you do about postpartum depression?
If you think you are experiencing postpartum depression, you should contact your doctor immediately. By doing so, you can discuss a treatment plan that will get you back to healthy.
Some tactics to heal from PPD include seeing a therapist, attending local support groups, practicing self care, and utilizing medication.
Out of that list, medication seems to be the most "scary" form of treatment for new mommas. However, if dosed correctly, medication will not change who you are or make you turn into someone else. All it will do is allow your brain to fire neurons correctly and produce a healthy amount of serotonin for your body. It is nothing to be ashamed or scared of!
So, momma, if you're reading this and you're struggling with the "why", please know that it is not you. You did not do anything to get PPD. It just simply happens. The good news is that it is treatable and you will be well again.